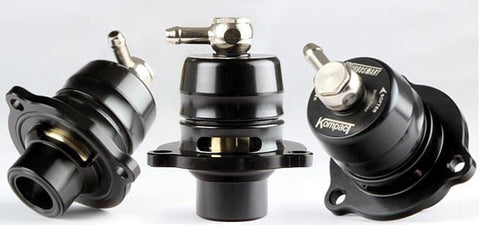 Turbosmart BOV Kompact Dual Port: 2014 - 2016 Ford Fiesta ST
This is a Turbosmart Kompact Dual Port Blow Off Valve for your 2014 through 2016 Ford Fiesta ST. Add a cool and unique blow off noise to your boosted Fiesta with this awesome and high quality BOV!
No one knows EcoBoost better than Turbosmart. They make performance parts for every Ford EcoBoost application, but this, the world's first aftermarket BOV for the new Fiesta ST is truly exciting.
Stock blow-off valves like those that come standard with the Fiesta ST often suffer from a range of problems. They are plastic, and they leak, and if you want to up the power (who doesn't?) they have trouble holding the extra boost.
You'll have no such troubles with Turbosmart's Kompact Shortie blow-off valve. Like all Turbosmart blow-off valves, the new Fiesta ST Kompact Shorties have been designed, machined and hand assembled in-house. Keeping the process in-house, ensures only the best quality, and the aircraft grade aluminum alloy construction means cracking and leaking even under increased boost levels will never be an issue.
The Fiesta ST Shortie is produced with a light-weight, brass/aluminum, two-piece piston, which is then perfectly matched with precision engineered springs, giving razor sharp valve response, and a serious increase in performance over stock valves. The Shortie's dual port design provides one plumb back port to keep the car's computer happy, and a second vent to atmosphere port for that trademark Turbosmart BOV sound we all know and love.